Thank you for your interest in Aurora Event Team!
We are glad you reached out to us to share your experience, expertise and what you have been hearing about Aurora Event Team. We are changing the face of events and are excited you want to be a part of the team and our mission.
We are always reviewing talent to be considered as future team members.
Please complete the requested information and upload your resume and a professional photo for our review.
Professional photo does not need to be taken by a professional – however you should be in professional attire. The photo should be clear with good lighting, and have your face and upper body in the picture, with a smile☺
Aurora Event Team creates a profile of our Event Professionals including your photo and a snap shot of your talent.
see example below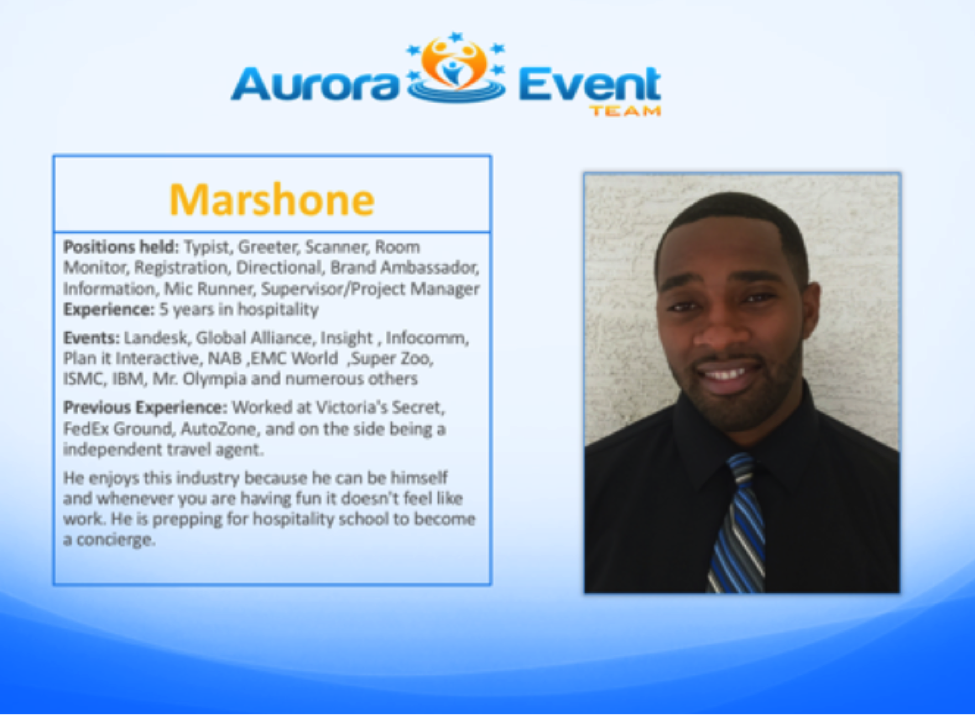 Disclaimer: At the Aurora Event Team, we respect your right to privacy and keep all information collected and submitted via the web site confidential. Know that our selection process for providing services is not based on information collected on the website. We consider all submissions regardless of if you have provided services in the event industry or not.
---
What Our Event Professionals Say

I wanted to take a minute to thank you for your leadership of our team and to say how much we appreciate you all treating us as professionals and acknowledging our work. You all have a choice as to how you engage with us, and it is commendable that you choose to treat us a valued team members.

Last night was a total BLAST. Everyone that was assigned to this event carried out their duties exemplary. Truly Magnificent

It was great providing services for Aurora Event Team…..a lot of class acts working with you…